SEE a future where food isn't the enemy
SEE how you can learn to trust your body again
SEE yourself free from the emotional burdens of disordered eating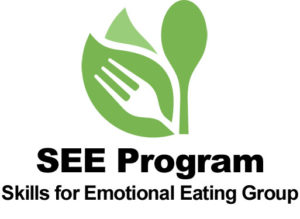 You may be an "emotional eater" if:
You find yourself eating to avoid dealing with problems, or turn to food when you are stressed & overwhelmed
You have ever felt "out of control" about your eating, or have trouble knowing when you are hungry or full
Negative feelings about your body seem to control your emotions and affect your ability to have satisfying relationships
You are a serial or yo-yo dieter
In this 12-week program, Tammy provides a supportive, educational and psychologically informed group-based treatment program.
Using evidence-based treatment approaches, Tammy helps participants learn how to tune into their bodies, re-learn balanced eating strategies and regulate emotions that can lead to dysregulated eating.
The hardest decision is whether to start on the journey to recovery, not when. If you think this sounds right for you or your patients, please contact Tammy to learn more!