Testimonials from Tammy Cook's current and former clients and loved ones.
"I always highly recommend Tammy Cook to anyone looking for a dietitian in the St. Louis area.  I have worked with Tammy for many years and she has been my rock."
"Tammy has truly been an inspiration to me and helped me immensely in just feeling comfortable in my own skin. Her view on food and teaching me how to find food's appropriate place in every day living helped me WANT to eat healthier, without self-judgement or shame which had so often plagued every meal. I still have a long way to go in my weight goals, but I know I will achieve them in great part because of the skills Tammy helped me discover."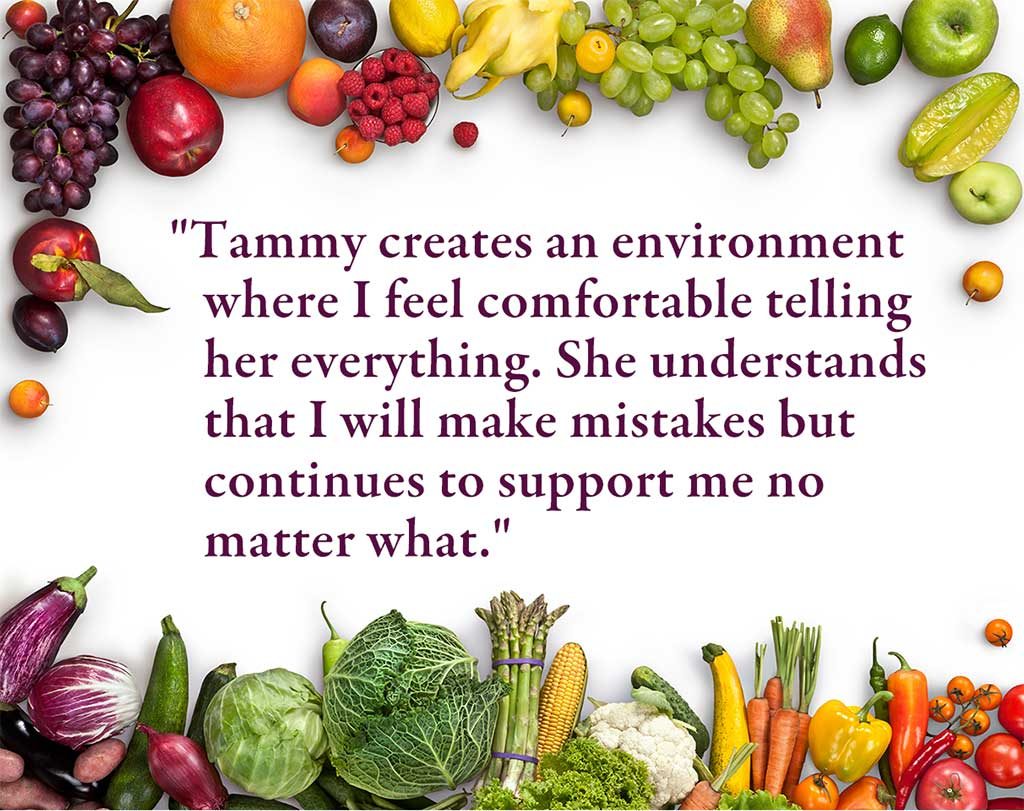 "I went to see Tammy to help my teenage son. He was eating all the wrong foods and needed to gain weight for his sports. Both my son and I were reluctant to go to a dietitian because of what we felt she would say about my son's eating habits; he eats fast food, junk food and drinks Dr. Pepper. When we met with Tammy, she put us at ease right away and did not reprimand my son for his eating habits. Tammy listened to my son's eating preferences, his workout regimen, and talked to him about his goals for his weight. Today my son has cut back on his junk food, and is eating healthier and is obtaining his goals to gain weight."
"Four years ago, I was readmitted into McCallum place Eating Disorder Treatment Center. My relationship with food was the worst it had ever been. I was so mad that I was in a treatment center instead of running track in high school. After all, I didn't have an eating disorder, right? I vividly remember the day I met Tammy Cook… as I'm sure she remembers it. I was sitting in an office at McCallum place eating disorder treatment center. Instead of my regular dietitian greeting me, Tammy walked in. She was replacing my old dietitian. I proceeded to curse her out. I was manipulative, aggressive, and almost impossible to work with, as I had no interest in recovery. Since then Tammy has stood by my side and helped me fight off all of the false ideas, I had surrounding food and exercise. Today I am able to eat from hunger cues, be spontaneous with eating out at restaurants, and most importantly (to me) I was able to compete at the 2019 National Ninja League World Finals (ever seen American Ninja Warrior?)! Let me assure you, it is extremely hard to find a dietitian who is as passionate about helping individuals with eating disorders as Tammy is. Not only did I find a dietitian, but in Tammy Cook I found a friend in food. In case I haven't said it lately, thank you for believing in me when I couldn't believe in myself."
"With Tammy's help, I have finally reached recovery. She taught me many skills to help my eating to normalize. Flexibility with eating is one of those, as well as mindful eating. Tammy was always available when I needed her. She was quick to respond to my texts and never made me feel like I was bothering her. She empowered me and showed me what healthy living looked like. I would recommend Tammy to anyone struggling with ED. She's simply amazing."
"Tammy Cook has made a difference in my daughter's life. Drawing from her years of experience and her own personal journey with an Eating Disorder she understands her client's struggles. Her compassion and sincerity are evident in the way she interacts with her clients and by the way she makes herself available. She doesn't just focus on meal plans, but approches treatment by looking at all areas of a client's life."
"Not only is Tammy highly skilled at her practice, she cares about her patients at a level that is typically only found with a relative or friend.  I have worked with Tammy while living in St. Louis and have continued to work with her 800 miles away.  Her flexibility, compassion and knowledge is tantamount to none!  She has made every element of my recovery better!"
"At 15 years old, the world as I knew it flipped upside down as my anorexia began to consume my mind and body. I was confused, scared, and angry at the world and God for handing me this controlling and embarrassing disease that no one seems to understand. Luckily, Tammy was there from the beginning, guiding me, teaching me and supporting me and my family throughout this life-altering situation. As my own, personal angel sent from above, there's no way I would be where I am today, 5 years later, succeeding in my recovery and in life. Tammy gave me the strength, hope and faith that I needed to face this thing. She is a true blessing and a forever friend that means the world to me."
"Tammy has been an incredible part of my recovery.  She has provided me the cognitive, behavioral and biological facts to help me overcome destructive habits and thoughts."
"Tammy is an expert in her field. She has compassion and is able to see her clients as people rather than just a illness. You are never alone in the battle with Tammy. The NFL does not have a cheerleader that can compare to Tammy when she is cheering you on through tough and good times! You can talk and confide in Tammy and NEVER feel like you have to have the "right" answers. She listens and helps you make sense of what is going on with you and your illness. I just know that if I hadn't found Tammy, I would not be where I am today. I have my struggles and I'm sure I always will, but because of Tammy I can put it in perspective and get on with LIFE!!!"
"I have worked with Tammy for over 3 years. I struggle with anorexia nervosa and she has helped me SO much with my illness. She has more knowledge of eating disorders than anyone else I've worked with. My eating disorder has been present most of my life and have been in and out of hospitals for over 15 years. Because of my work with Tammy, I haven't needed to be hospitalized for 3 years! I've never been able to go this long without the need for inpatient treatment. Her nutrition knowledge and understanding of how the body works is amazing! People with eating disorders know how difficult it is to trust someone else with food and weight related issues. I trust Tammy with my meal plan, weight and cooking. I trust her enough to do "blind weights" and do not secretly weigh myself! Tammy also helps me plan out menus and assists me with cooking 14 meals a week. I love and appreciate her flexibility with my unique situation!"
"I always highly recommend Tammy Cook to anyone looking for a dietitian in the St. Louis area.  I have worked with Tammy for many years and she has been my "rock".  She is a very important member of my "health team" and I do not know what I would do without her knowledge and constant support.  I have worked with other dietitians and Tammy is unique!  Tammy does not just give you a generic meal plan and say "follow this" but instead she takes the time needed to listen to you, thoroughly evaluate all of your needs and then provides several suggestions so you can work as a team to design a program that works for you.  This personal attention is comforting to me and I know Tammy is truly concerned about me as a person and this is very important to me."
"Tammy is a compassionate and highly skilled nutrition therapist. Her knowledge of dietetics is vast and her cooking skills can't be beat!"
"Tammy is an exceptional Dietician.  She is highly intelligent and has experience working with people in all aspects of health related conditions whether it be Diabetes, Thyroid Abnormalities, Weight Management, Eating Disorders, etc.  She has a great gift in that she listens very well to the patient to find out exactly what their needs are,  and comes up with an individualized Meal Plan for that person.  I find her to be extremely easy to work with and talk to.
"Tammy is very flexible and I trust her.  She has great enthusiasm and motivational skills.  She came recommended to me by a very well known physician who mentioned that she was the best dietician in the city."
"I enjoy working with her and would never consider any other dietician. "